Mimata Hot Spring Kokumin Hoyou Center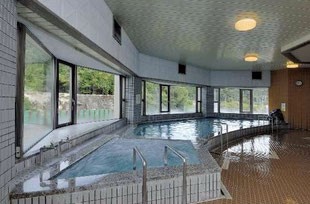 Mimata is the one of the most famous hot springs in Shimane. It has been used for over 150 years. It is claimed that the water from this hot spring makes you beautiful! Could this be why Shimane women win the best complexions in the country contest every year?
The hot water is alkali, so it works as a mild soap. When you get into this hot spring, the water becomes slippery, and it feels very hydrating. You can actually buy some cosmetics made from the water. You can also enjoy a sauna here.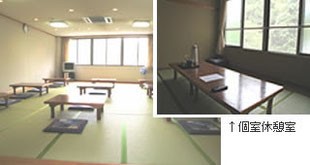 ↑               ↑
Free resting room Private room
After enjoying the hot spring, you can take a rest on the second floor and drink free Japanese green tea. In front of this relaxation room, there is a vending machine for bottled milk. It is a Japanese custom to drink cold milk after getting into a hot spring.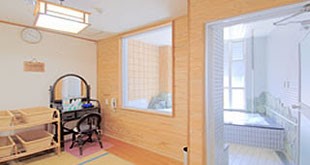 If you want to go into the hot spring with your family, there are some private baths. One of them is arranged for easy wheelchair access. In addition, people can rent some rooms to take a rest. The price costs 2,700~ 3,200 yen for four hours per room. Therefore, you can enjoy your rest privately!
Be aware!
・If you have a tattoo, you should cover it with a Band-Aid. Attitudes to tattoos are changing, so please check with each hot spring.
・Don't wash your mouth out or drink water from hot springs and their shower. Some of them are not suitable for drinking.
・Don't open the windows at the locker room and bathroom.
・Don't take your towel into the hot spring.
・Don't dye your hair at the locker room and the bathroom. Tie it up if it is long, so that it does not touch the pool.
・Sometimes hot water (40-41℃) comes from showers at Mimata
・And you know you're supposed to be naked, right?
Do not go into hot springs if any of the following apply to you. And don't stay in too long.
・High blood pressure, or if you are worried about your heart
・Pregnant women (especially in the first trimester)
・Infants
・People who feel very hungry.
・Right after eating, or after drinking alcohol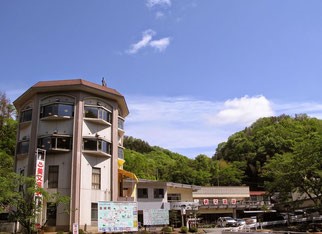 <Information>
TEL: 0855-42-0353 (in Japanese only)
Address: 〒697-0301
32-1 Oihara, Kanagi town, Hamada city, Shimane
Open: 10:00~20:00 (Please enter until 19:30)
Close: Wednesday (when Tuesday is a national holiday, the next day is closed)
Admission fee:
| | |
| --- | --- |
| Adults | 500 yen |
| Children in elementary school | 250 yen |
| Children under 6 years old | free |
☆Family hot spring: 2,500 yen/ per an hour (No appointment)
Parking area: In front of the Mimata Hot Spring Kokumin Hoyou Center