Bon dancing festival in Tsuwano
(津和野盆踊り大会)
Iwami region is home to one of Japan's 'little Kyotos', smaller scale versions of the delightful city. Tsuwano has outstanding shrines and temples, incredible festivals, hot springs, sake breweries, a Christian history, an amazing garden, and even a steam train.
The Bon dancing festival in Tsuwano is held on August fifteenth, which is during the period of the Obon festival every year. (Obon is the time when Japanese families welcome back the ancestors' departed souls to this world.) In the Bon dancing festival in Tsuwano, people dance their local 'Tsuwano dance (津和野踊り)' in the street on a summer evening after dark.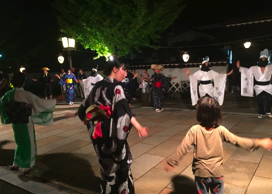 This dance is registered as an intangible cultural asset in Shimane prefecture. It is a Buddhist dance which has been handed down from generation to generation since the Muromachi period (1336-1573). People dance to live music such as the shamisen bamboo flute, and wear unique costumes. They have black masks, a white headband, and a long-sleeved white kimono. You can feel an old Japan and a sense of elegance in this traditional dance. Best of all, you'll be invited to join in!
Date: August fifteenth (8:00PM~9:00PM)
※The time might change some years, so please check the time.
Address: Tonomachi Street, Ushiroda, Kanoahigun Tsuwanocho, Shimane
Participation cost: free
※There is a a paid parking lot.