Hamada Castle Museum
Hamada Castle Museum introduces the history of the castle and the nearby port of Tonoura, which is recognized as a Japanese Heritage Site as a port of call for Kitamae Ships. It opened in October 2019 in the historic building of Gobenden, explained below.
Hamada Castle
Only the ruins of Hamada Castle exist. It was built on a 67-meter-high hill, and is also known as Kameyama Castle, or Turtle Mountain Castle. Construction of the castle began in 1619 by Shigeharu Furuta, who became the first lord of the Hamada Domain, the following year, and it was completed in 1623. The castle had a hillside inner moat, a government office, and storehouses, and a hillside inner courtyard, which housed a storehouse of flaming-hot glass and a guardhouse. The citadel, or honmaru in Japanese, had a keep, a three-storied turret, a storeroom, and a six-room house.
Tonoura Bay
Tonoura was known as a natural harbour bordering the castle town, where many Kitamae Ships called at the port and prospered. There were two small flat areas in the deep bay, lined with shipping wholesalers. From the middle of the Edo period to the Meiji period, Kitamae Ships were Japanese-style boats that sailed between Hokkaido and Osaka on the westbound route . The Kitamae ships' business was based on the buying and stacking method, in which cheap goods were purchased at one port and sold at a higher price at another port, thereby earning a profit. Iwami pottery, especially large water butts, can be found all along the ships' routes on the Sea of Japan coast. Today it is a lovely place for a stroll, and many local people enjoy fishing there.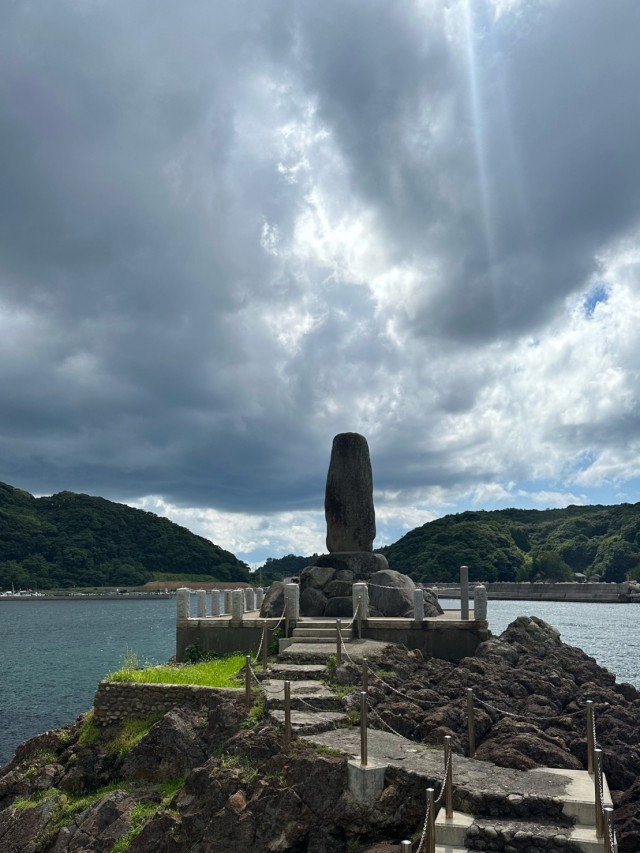 This is a photo of the Hachiemon Aiyuza (1798-1836) monument erected in 1935 in Tonoura Bay. Hachiemon owned a ferry in Matsubara Town, Hamada City and worked as a direct boatman, transporting tribute rice and other commodities. There are claims that he went as far as south-east Asia to trade. However, this was in Japan's isolationist period and when his travels were discovered, Hachiemon and his crew were arrested, and he was eventually executed. Now he is celebrated in Hamada as a local trader who tried to bring wealth to the town.
Gobenden
Gobenden is the building that now houses the museum. It was built in 1907 as a lodging facility for Prince Togu during his state visit to the San-in region. Gobenden is a traditional Japanese-style building with a large gabled roof. There is a throne room and an audience hall inside. While the building itself is attractive, at the time of writing, none of the exhibits are explained in English.
(Photos and words by Sera)