Sanbe burger
Ohda city is famous for its nature, which can be found in abundance at nearby Mt. Sanbe. In Ohda city, very near the Shimane Nature Museum of Mt. Sanbe, there is a nice hamburger place. This restaurant really follows local production for local consumption. All the ingredients used to make the hamburgers here are from Shimane, and the tasty patties are made from Shimane beef and pork. Char-grilled patties are featured in all hamburgers. The meet is from Shimane, from the cows you can see grazing at the foot of Mount Sanbe. The burgers taste great because they are cooked to order, and you can take your order outside and eat it on the grass.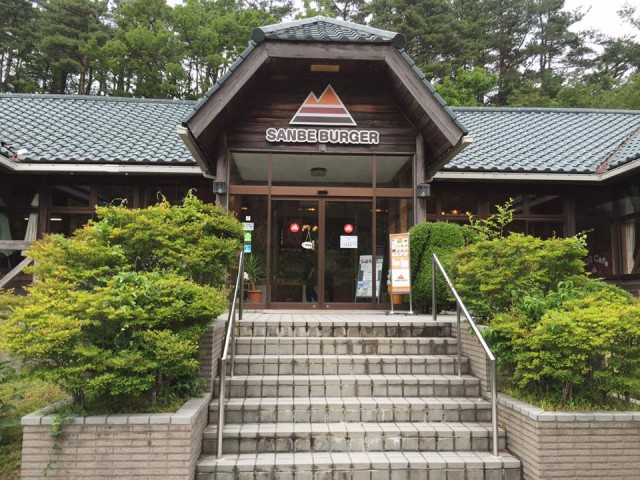 The standard menu item is the Sanbe Burger, but there are about six other hamburgers you can order as well. (Egg burger, Bacon burger, Tomato burger, Cheese burger, Wasabi burger, Special burger, and Limited-Time specials per season.) You can get different kinds of burgers starting at 600 yen for a basic burger, and going up to 900 yen for a special burger, and 1,200 yen for a lunch set.
In addition to hamburgers, the shop also serves some sweets (Strawberry parfait, blueberry yoghurt, berry berry honey toast) and a Japanese-style "Hamburg lunch" (hamburg patty with rice or bread, salad and soup.)
They also have free Wi-Fi. Connect to SHIMANE_Wi-Fi.
On your way out the door, you can pause to buy some souvenirs in the shop such as wasabi mayonnaise or specialty goods from Shimane.
【Address】
– 〒694-0003 , Tane 1125-1, Sanbe-cho ,Ohda City, Shimane prefecture
【Tel】
– 0854-86-0200 (in Japanese only)
【Business hour】
– 10:00~17:00
【Closed】
-Tuesdays
【website】
Tomomi