Day trip to Misumi in Hamada (park, shrine, temple, gallery, gelato)
Distance:km
Misumi is a little fishing village about 30 minutes down the coast from central Hamada. One of the first signs of Spring in Iwami is the plum blossom, and Misumi Park has a lovely walk through plum groves. It's pretty steep, however, so not suitable for anyone with mobility issues. After seeing the flowers– they have fantastic azaleas around Golden Week, take a look at Misumi shrine, then head up the road to see Ryuunji temple, with its spectacular garden. Have lunch at Maruco and then see the art gallery. You can have coffee there too. Stop in at Kaede Gelato for ice cream, just off Route 9.
Misumi Shinto shrine (三隅神社) is in Misumi. This shrine is next to Misumi park, which is famous for azaleas festival. In the azalea blooming season in late spring, many people go there to enjoy looking at flowers. The whole mountain turns pink and red with the flowers. During azalea festival, you can watch Kagura which is a type of Shinto theatrical dance there and enjoy listening to Kagura music, played with a flute and drum. You can also see cherry blossoms too, so spring is one of the best seasons to visit.
The shrine was built in 1937 for Kanetsura Misumi (三隅兼連). He lived in Iwami in South and North courts period. He fought with Takauji Ashikaga, who had a strong power in Muromachi era and is famous for building Kinkakuji Temple in Kyoto. His life was lost in the battle in North Korea in 1349.
Around the shrine, there is a small stream and some statues which are symbols of the shrine. In the stream, you can see colorful carp swim. When you visit a shrine in Japan, you can see a pair of stone-carved guardian dogs or foxes. It depends on the kind of shrine. At this shrine, there are dogs. Japanese lanterns line the sides of the path from entrance to the shrine. By the shrine, there is a sacred lottery. People can pick omikuji, or fortune telling papers, and divine their fortunes from the paper. You can buy an omikuji for only 20 yen.
To the left of the main shrine, don't miss this somewhat odd looking horse or pony. Shrines usually feature lions, dogs, tapirs or dragons in their carvings and statues but Misumi Shrine has this cute little horse. You can see more common lions too. These guardians of the shrine come in pairs, one with an open mouth and one with a close mouth. The one with an open mouth may have a stone ball in its jaws, guarded by fangs. It is said that if you can take the ball out, withour breaking the statue's teeth, you will live forever. Hence the number of statues with broken fangs...
Access: Take a San'in line train from Hamada station to Mihomisumi and then, take a bus for about 10 minutes from Mihomisumi station. If you come by car from Hiroshima, take the Hamada bypass as far as you can, and turn left at the end of the San-In highway on to Route 9, heading for Masuda. The Bairin Park and Ryuunji temple are signposted from Route 9.
Address: 697-0027 Misumi Misumi, town Hamada Shimane
Tel: 0855-32-2104 ( in Japanee only)
Natsuki
Ryuunji is a Soto Zen temple, which was founded by Misumi Nobukane in 1382. Its name translates literally to Dragon Cloud Temple, but it is also known as "Kaikurasan", or Sea Storehouse Mountain. It's set deep in mountain valley, on a steep, narrow, road. It is about 2 kilometers uphill from Misumi shrine, so you can go by car in about ten minutes.
This temple has beautiful buildings and a garden. Nature surrounds Ryuunji, and you can see scenic views in every season: cherry blossom in Spring, azaleas in May, red leaves in Autumn, and a beautiful snowy landscape in winter.
In the pond, there are some creatures like newts and tadpoles.When you enter the front door, you will see a small bell for calling the chief priest.
In the main hall, you can see a carving of a dragon above the sliding door. And when you look up at the ceiling you can see the picture of a large dragon! This is the reason that this temple is called Ryuunji, or dragon cloud temple. Legend has it that you can clap your hands and hear the dragon roar.
This temple contains a prefecturally-designated cultural property and some cultural properties like statues and a Buddhist sutra. Japanese pictures are drawn on sliding doors inside the temple. There is also a peaceful Zen meditation hall for visitors who make reservations.
It is possible to call in advance to arrange for lunch and Zen meditation sessions. Please be sure to make a reservation if you wish to eat at the temple.
Address: 909 Ashiya, Misumi town, Hamada city, Shimane.
Call: 0855-32-0960 ( In Japanese only)
Website: http://ryuun-ji.jp/ (In Japanese only but with some great photographs.)
Tomoharu. I
This museum was built for Sho Ishimoto(石本正) who is a famous Japanese artist. He sent his works to Misumi and this museum was built in 2000. He wants this museum not to keep up with current fashion, but to instead be an intimate museum with the beautiful forest of Misumi, old temples, and so on. He was born in Misumi, Shimane in 1920. He learned art in Kyoto, where he has a studio, and he is a professor at the Kyoto University of Art and Design now.
After his painting "Three girls(三人の少女)" won a prize at the Japanese Art exhibition, he became famous. After that he won the same prize twice again, and one of his paintings "scenery(風景)" not only won the prize of the Kyoto exhibition but also was bought by an art museum in Kyoto. It made him more famous. But after he was awarded the Japan Art Grand Prix and the Agency of Cultural Affair in 1971, he refuses to get any prize or to be interviewed by the media. But still his work affects many artists and students.
Although he draws many kinds of things, for example women, plants, scenery, animals and
so on, he is famous for drawing maiko(舞妓), and especially nude women. The reason why he began to draw maiko was the influence of Ryusei Kishida. Kishida is a really famous Japanese artist. His works have one characteristic, which is not drawing things or people so beautifully. We can see this influence on Mr. Ishimoto's work. He thought living things and their beauty are short-lived and what they have is not only beauty. So his paintings of maiko show emphasize not only their beauty, but also their freshness and purity.
Why did Mr. Ishimoto begin to draw nude women? During the war, he saw a mother nursing on the train. His thoughts returned to her cleavage shining, so his next painting featured a nude woman's cleavage shining. He hopes to show the warmth of human beings, the symbol of mother hood, and source of living things though his nude paintings.
But he was sometimes criticized for his nude paintings and this made him worry. When he published the "maiko" in 1966 he became even more worried. The painting features three maiko who are not so beautiful, but pure and fresh, and it also depicted four other nude women, but he erased them because people didn't understand his work and criticized it a lot. So in 1968 he produced another "maiko," different from the one made in 1966. The 1968 version includes three maiko and they are all drawn beautifully.
After that he worried that there were differences between what he wanted to draw and what people wanted to see, so he began to draw many things and he went to Kyoto with Matazo Kayama to sketch. He drew many maiko sketches, but when he transferred the real women to his canvas, he often changed their appearance. Perhaps, if the m
aiko was not rich, he would draw her in a really expensive kimono, with beautiful combs, and he would even draw their faces from his own imagination instead of from reality.
In Kyoto he met one maiko, Toyochiyo. She was regarded as a most beautiful maiko then. Her department store posters were always stolen, showing how she was beautiful and popular. He began to sketch her, but he thought she was too beautiful to draw on canvas. After his trip to Europe to draw and see European arts, he tried to draw Toyochiyo on canvas, many years after he first sketched her.
One very interesting painting in this museum is called "Resurrection." You must not miss it! It was copied by Tadao Okazaki, who was coached by Mr. Ishimoto. He was really inspired by the original "Resurrection" by Piero della Francesca. Although it was forbidden to copy pictures, to prevent some people from selling these imitations in Italy, Okazaki really wanted to do another version so he asked to copy this picture. With his zeal, he got permission to copy it in a larger size, so he moved to Italy with his family and worked on his copy in front of the original picture for five years. For this exhibition, Japanese cutting-edge technology is used. There is a glass in front of the picture, but it never prevents you from enjoying this picture. The glass and the light used in the display are special ones. This picture and these technologies will impress you for sure.
In this museum, there are lots of events and the exhibitions often change. (You can see Sho Sekimoto's work. And sometime it's closed while they prepare for the next exhibition.) Some events are free and sometimes artists will come to talk about art. You can also enjoy crafts and the occasional music recital. There are classes for sketch, water and oil paintings and so on. If you want take these classes, sometimes you need reservations. Please check Sekisho Art museum's HP.
There is a Café in the same building. You can have lunch there. Check this page.
Sekisho Art Museum
Address : 589, Koichiba, Misumi-town, Hamada-city, Shimane
TEL : 0855-32-4389
E-mail : sekisho@mx.miracle.ne.jp
HP : http://fish.miracle.ne.jp/sekisho/
Business time : 9:00~17:00
※ This museum is not open every Monday and the end of the year and the new year.
(When Monday is the day of holiday, it's not open on next Tuesday. )
When you enter Sekisyo Art Museum, turn left and you'll find a cozy cafe at the end of the passage.
The wooden tables and chairs reflect the pleasant atmosphere of such a welcoming café.
There are a lot of lovely hand-made works created from traditional Japanese paper.
The fusion of modern art and traditional material is simply amazing.
Enjoy some hot coffee and sweets after seeing the Museum!
Business Hours: 9:00 ~ 17:00 (Last Order 16:30 )
Regular Closing Day: Monday (if Monday is a holiday, they close on Tuesday)
Around the New Year (Follow Museum Schedule)
※They also close when they change the exhibits
Recommended Menu:
Sekisyo Original Blend Coffee ¥350
French Toast Set ¥700
Crème Brulee ¥700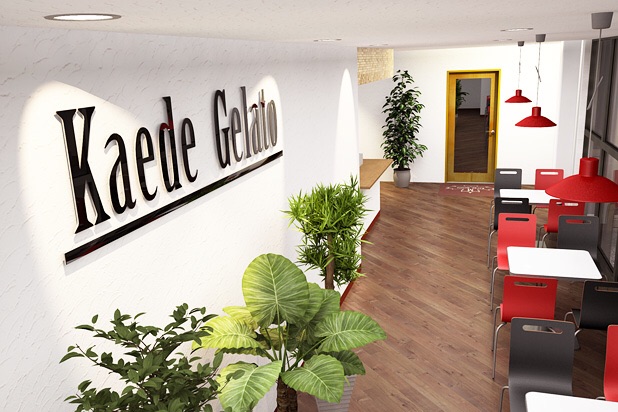 Kaede Gelato(楓ジェラート)is an Italian gelato shop located in Misumi. It opened in 2013.
You can choose from many flavors: milk, green tea, sesame, chocolate, and so on. The flavors change every season. They are made with some ingredients from Shimane. The flavor is rich, but have a clean finish. It's so delicious!
You can eat in or take away. Because you can see small garden from the window, I'm sure that you will feel refreshed and relax.
The store is on a curve on Route 9 so be really careful when you are driving in or out. If you park on the other side of the road and cross Route 9, please take great care.
【Information】
Kaede Gelato
Address: 〒699-3212, 721-7 Mukainota Misumi-cho Hamada city, Shimane
Tel: 0855-32-5200 (in Japanese only)
Open: 11:00~18:00(on weekdays)and 10:00~17:00(on weekends and holidays)
Closed: on Tuesdays (November~March) ※when Tuesday is a national holiday, it's open
Parking: space for 8 cars