A half-day trip in Hamada and Gotsu
Distance:km
At lunch time, go to the view line, a restaurant of the University of Shamane. After eating good luch, you can go to the Hamada children museum of art. It's located near the University, so you can go easily. After you look around the nice arts, how about having a desserts! Go to the Kaede Gelato and you can eat sweet gelato.There are a lot of kinds flavoer. (By Chiaki)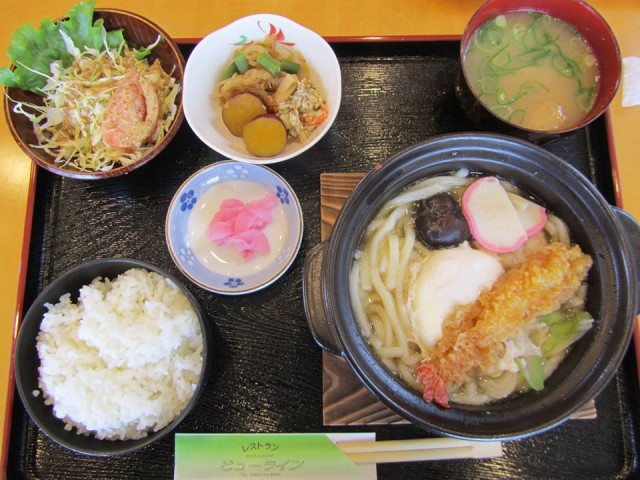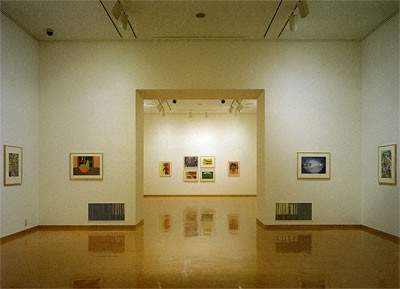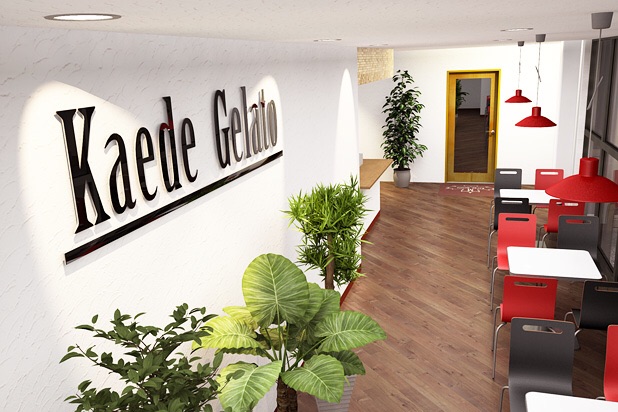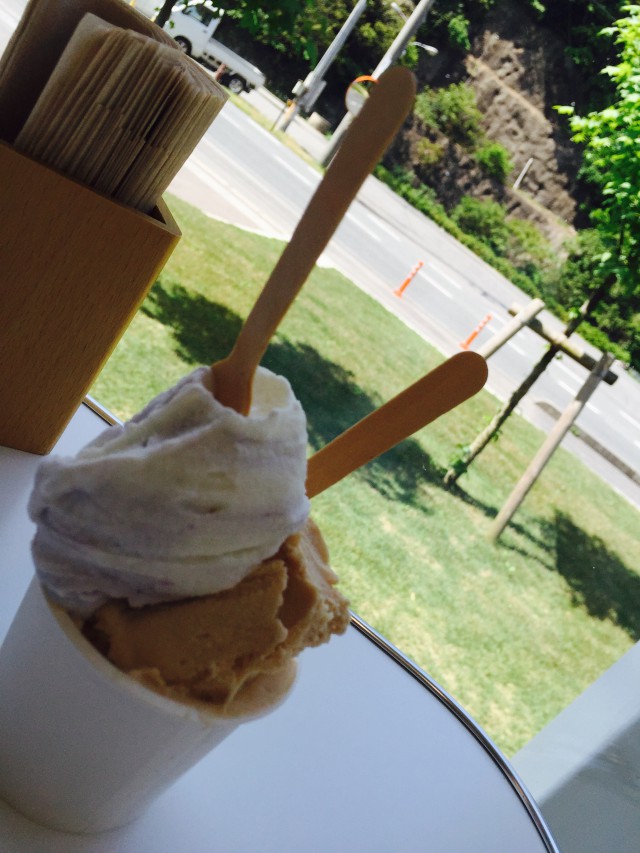 Viewline is the University of Shimane's restaurant. You can have yummy set lunch, like Nabeyaki-Udon set (Udon Noodles in Hot Pot) there.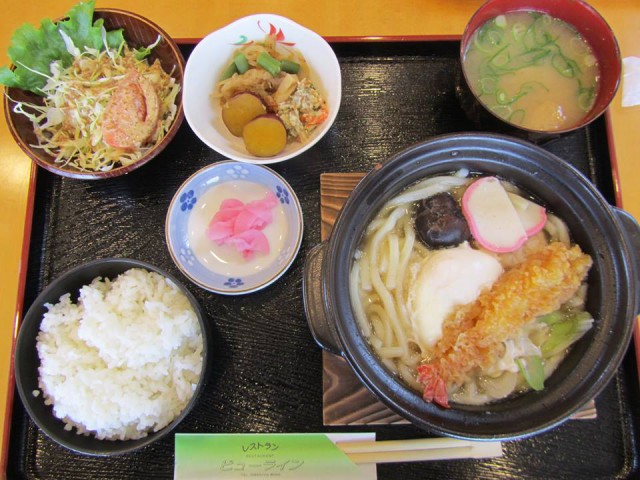 They also serve noodles, rice bowl sets, fried rice, and a range of soft drinks. I think the best thing about this restaurant is the beautiful panorama view of Sea of Japan. So Viewline is popular with teachers and students of the university too. (You might see some writers from Iwami Travel Guide there!) You can enjoy both nice meals and a beautiful view. I like this restaurant because I can enjoy a calm time in a relaxed atmosphere. I recommend you to go there at least once.
If you are a Shimane resident with a Coccoro card for kids, up to two children can get free juice with their lunch when you show the card.
Recently, they've put up some new signs in Japanese to show you the way but it's still a little bit difficult to find even if you are on campus. If you come from the bus stop you should walk towards the sea, and then go up all the external stairs on your left. Before you get to the glass walkway, enter the building. Viewline is right in front of you.
Written by Eri
【Information】
Address: 2433-2 Nobara-cho, Hamada city, Shimane
TEL: 0855-23-8200 (Japanese only)
Open: AM10:00〜PM5:00
Holidays: Saturday, Sunday, National holidays.
This is the biggest museum in Hamada. There are many pictures and most of them are displayed at children's eye level.The best thing about this museum, however, are the weekend and holiday workshops for kids from 1-4 p.m.. For a few hundred yen, children can enjoy craftwork, often using seasonal materials, or related to holidays. Sometimes, they make edible artwork, and before Christmas, there's usually the chance to make wreaths and mini Christmas trees.
Many families visit this museum all year round. The museum holds interesting exhibitions so people of all ages can enjoy visiting. Some past exhibitions include a showing of the works of Kazuo Iwamura, a famous writer and artist of picture books, and a Trick Art exhibit, which included interactive displays. The best thing in this museum is that you can oftentouch the exhibits and take photos!
Concept-----This museum was built in 1996 for children. It's important for people to touch art and cultivate their imaginative powers while young. Depending on the theme of the current displays the admission fee changes. You can get a discount if you buy tickets in advance. The museum opens at 9:30 am and closes at 5:00 pm.
Facilities-----5F and 4F are gallery floors. This museum contains some permanent exhibits displaying the works of Japanese master artists from many genres, and they are often displayed on these two floors. Sometimes, many kinds of projects of art are held. In the collection room, the masterpieces of local Shimane artists are exhibited. From the multipurpose room, you can see a beautiful view of the Japan Sea and the nearby Hamada port. This room is open for use by any Hamada resident, so you can use this room if you submit an application and a small fee of about ¥1,000. In the Artist's Workshop, you can create things. There are many art tools for you to use, so you can try drawing, printing, sculpting, and woodworking. The Library in this museum has a good collection of books on art. There are great picture books from all over the world, a large collection of pictures and art for children and technique books, which can help you learn how to draw and paint. In the Museum shop, you can buy postcards, picture books and unique accessories. In the Museum café, you can enjoy drinks of many countries, such as Chinese tea and Indian Lassi. Why don't you have a cup of tea in the café after going around the museum?
Past Exhibitions-----
The faces of Picasso (2002)
"Ni hao" China (2004)
The world's hero, Anpanman (2006)
Ancient and modern Kagura (2008)
Trick art (2010)
Access----- This museum is located next to the University of Shimane. You can take a bus "大学線 (University line) " to the museum from Hamada station for only 100. You can see this museum from the last stop, the University of Shimane. The bus in the picture below has "The University of Shimane" written as its destination. Look for those characters!
Hamada Children's Museum of Art (浜田市世界こども美術館)
TEL: 0855-23-8451 FAX: 0855-23-8452 ( Japanese only, but there MAY be someone who can speak a little English at times.)
ADRESS: 859-1 Nobara Hamada (浜田市野原町859-1)
Open: 9:30 am. / Close: 5:00pm.
Admission fee: Depends on the theme of displays. (You can get a discount if you buy the ticket in advance.)
URL: http://hamada-kodomo.art.coocan.jp/index.php (Japanese)
(Written by Emi )
Photo copyright OjisanJake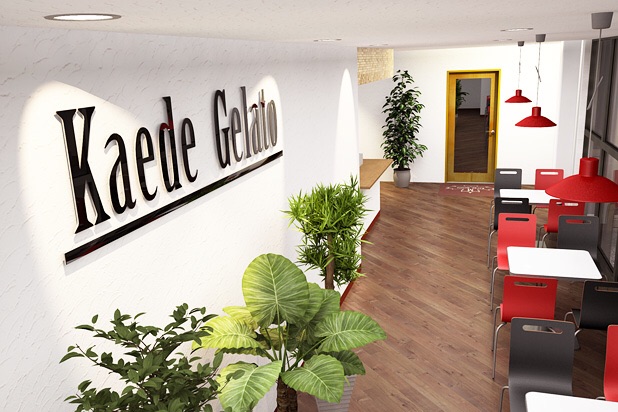 Kaede Gelato(楓ジェラート)is an Italian gelato shop located in Misumi. It opened in 2013.
You can choose from many flavors: milk, green tea, sesame, chocolate, and so on. The flavors change every season. They are made with some ingredients from Shimane. The flavor is rich, but have a clean finish. It's so delicious!
You can eat in or take away. Because you can see small garden from the window, I'm sure that you will feel refreshed and relax.
The store is on a curve on Route 9 so be really careful when you are driving in or out. If you park on the other side of the road and cross Route 9, please take great care.
【Information】
Kaede Gelato
Address: 〒699-3212, 721-7 Mukainota Misumi-cho Hamada city, Shimane
Tel: 0855-32-5200 (in Japanese only)
Open: 11:00~18:00(on weekdays)and 10:00~17:00(on weekends and holidays)
Closed: on Tuesdays (November~March) ※when Tuesday is a national holiday, it's open
Parking: space for 8 cars