Half day trip in Hamada
Distance:km
If you take a bus from Hamada station, you can go 'Hamada Children's Museum. You can enjoy many kinds of art works hare. It is really close to the university of Shimane. After that at Kashinomi, you can enjoy cakes and coffee. In addition at Fracoco, you can buy herb tea and organic cosmetics and you can take make-up lesson or aroma treatment.
(Written by Ruri)
This is the biggest museum in Hamada. There are many pictures and most of them are displayed at children's eye level.The best thing about this museum, however, are the weekend and holiday workshops for kids from 1-4 p.m.. For a few hundred yen, children can enjoy craftwork, often using seasonal materials, or related to holidays. Sometimes, they make edible artwork, and before Christmas, there's usually the chance to make wreaths and mini Christmas trees.
Many families visit this museum all year round. The museum holds interesting exhibitions so people of all ages can enjoy visiting. Some past exhibitions include a showing of the works of Kazuo Iwamura, a famous writer and artist of picture books, and a Trick Art exhibit, which included interactive displays. The best thing in this museum is that you can oftentouch the exhibits and take photos!
Concept-----This museum was built in 1996 for children. It's important for people to touch art and cultivate their imaginative powers while young. Depending on the theme of the current displays the admission fee changes. You can get a discount if you buy tickets in advance. The museum opens at 9:30 am and closes at 5:00 pm.
Facilities-----5F and 4F are gallery floors. This museum contains some permanent exhibits displaying the works of Japanese master artists from many genres, and they are often displayed on these two floors. Sometimes, many kinds of projects of art are held. In the collection room, the masterpieces of local Shimane artists are exhibited. From the multipurpose room, you can see a beautiful view of the Japan Sea and the nearby Hamada port. This room is open for use by any Hamada resident, so you can use this room if you submit an application and a small fee of about ¥1,000. In the Artist's Workshop, you can create things. There are many art tools for you to use, so you can try drawing, printing, sculpting, and woodworking. The Library in this museum has a good collection of books on art. There are great picture books from all over the world, a large collection of pictures and art for children and technique books, which can help you learn how to draw and paint. In the Museum shop, you can buy postcards, picture books and unique accessories. In the Museum café, you can enjoy drinks of many countries, such as Chinese tea and Indian Lassi. Why don't you have a cup of tea in the café after going around the museum?
Past Exhibitions-----
The faces of Picasso (2002)
"Ni hao" China (2004)
The world's hero, Anpanman (2006)
Ancient and modern Kagura (2008)
Trick art (2010)
Access----- This museum is located next to the University of Shimane. You can take a bus "大学線 (University line) " to the museum from Hamada station for only 100. You can see this museum from the last stop, the University of Shimane. The bus in the picture below has "The University of Shimane" written as its destination. Look for those characters!
Hamada Children's Museum of Art (浜田市世界こども美術館)
TEL: 0855-23-8451 FAX: 0855-23-8452 ( Japanese only, but there MAY be someone who can speak a little English at times.)
ADRESS: 859-1 Nobara Hamada (浜田市野原町859-1)
Open: 9:30 am. / Close: 5:00pm.
Admission fee: Depends on the theme of displays. (You can get a discount if you buy the ticket in advance.)
URL: http://hamada-kodomo.art.coocan.jp/index.php (Japanese)
(Written by Emi )
Photo copyright OjisanJake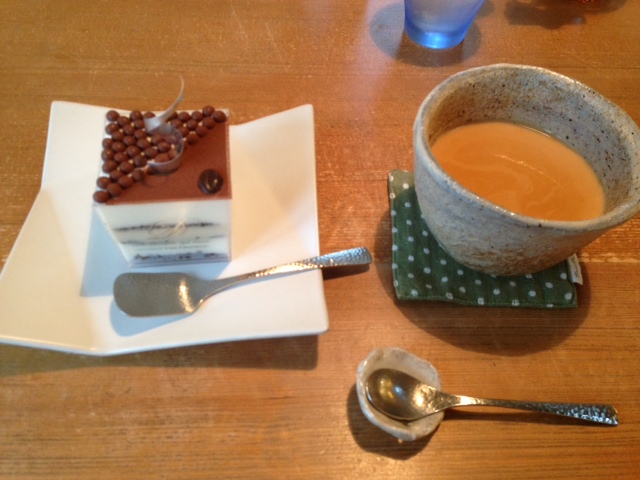 Near the University of Shimane in Hamada, you can find one of the best cake shops in Shimane. It's called, 'Kashinomi'. They sell many kinds of cakes including crème brulee, strawberry tarts, puddings, fruit tarts, and cookies. You can also order birthday and celebration cakes here and have them decorated by choosing from the photographs of previous cakes.
There are many kinds of cakes like these. In the picture at the top, you can see Tiramisu and Boiled down tea with milk. There are a few tables too so you can enjoy coffee and cake in-store. They have a loyalty card and you get a stamp for every 500 yen you spend. When your card is full you can exchange it for 500 yen to use in the store.
The cake shop is a little hard to find, so I recommend you go to the building of Iwamiru first. If you follow the signs to the University of Shimane you will find Iwamiru on the hill leading the uni: it'll be on your right, and there is actually a bus stop right in front of Iwamiru. From the bus stop, go back out to the road, turn left and start walking down the hill. Take the first left after about 50 metres, and then the first right after about 20 metres. Go down that street and you'll see it on your right.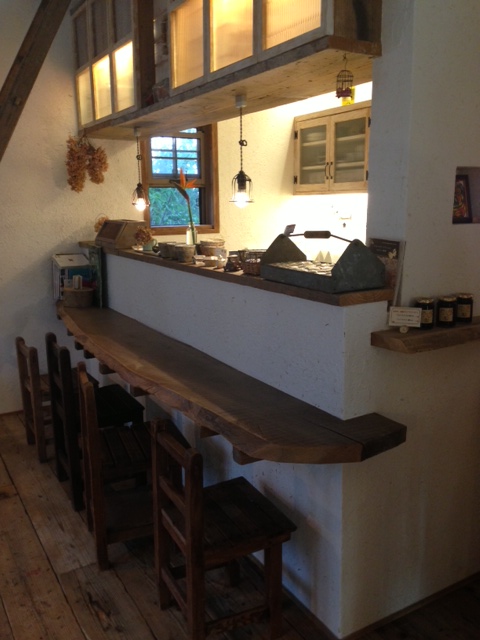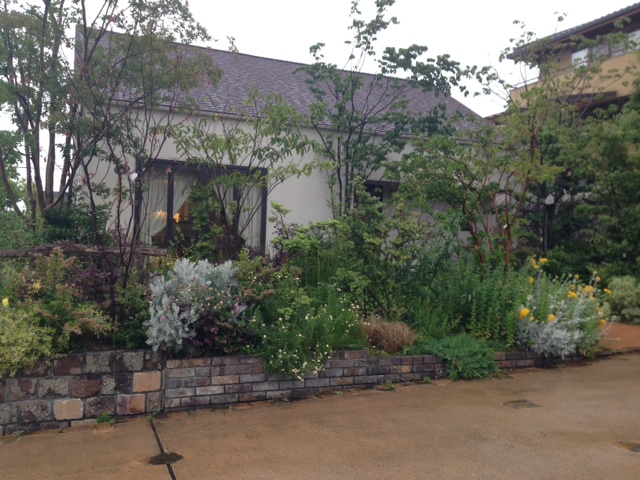 ―Kashinomi―
Open: 10:00~18:30
Closed on Monday and third Tuesday of the month
Tel: 0855-22-6133 ( Japanese only)
(written by Chiaki)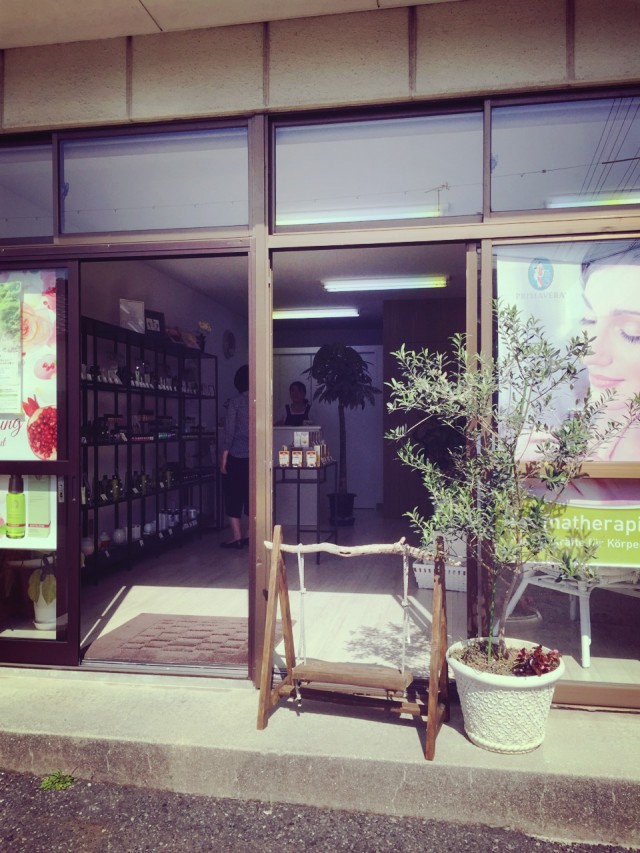 Fracoco (フラココ) sells many kinds of organic cosmetics, aromatic oil and herb tea.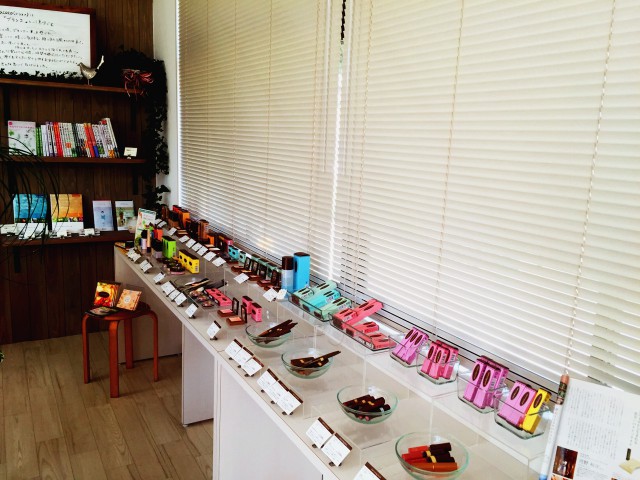 ↑organic cosmetics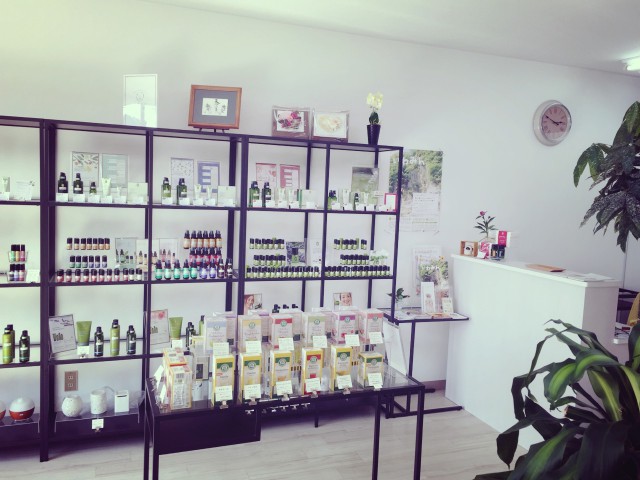 ↑Aromatic oil, herb tea and organic skincare items
And you can have a make-up lesson!! This time, I experienced making an aromatherapy perfume. (2000 yen). First, I chose about three to five aromatic oils after smelling them. Second, I put them into a beaker and mixed them up. Finally, I poured ethanol into the oil. That's all! One month later, it can be used as a perfume. It is good to wait for it to mature. If you wait for one month, it will smell nice. Sometimes, this shop has aromatherapy workshops! You can learn how to use essential oils. You can also experience many kinds of organic aroma treatments. If you come here, you can relax!!
Organic aroma treatment menu: 2000 yen ~
Make-up lesson menu: 1500 yen ~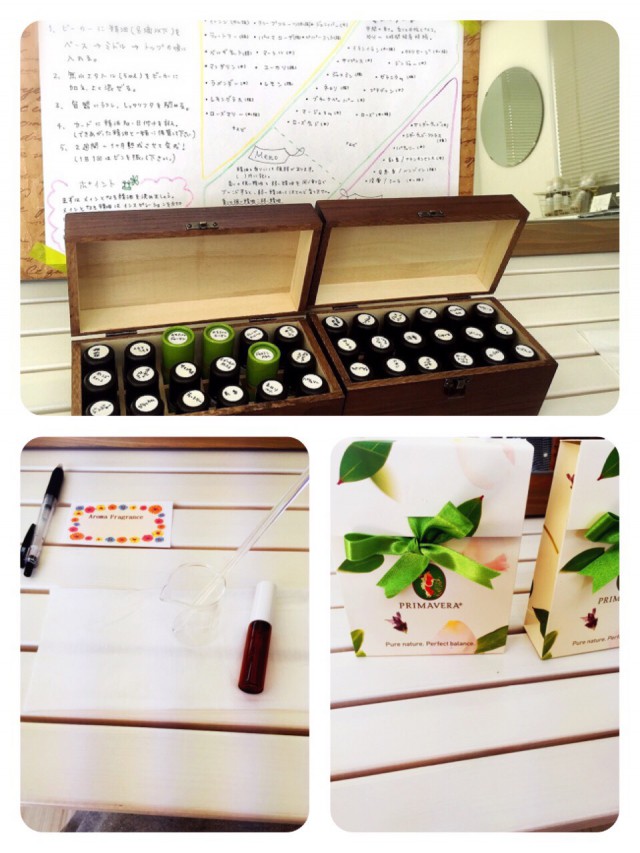 ↑Making an aromatherapy perfume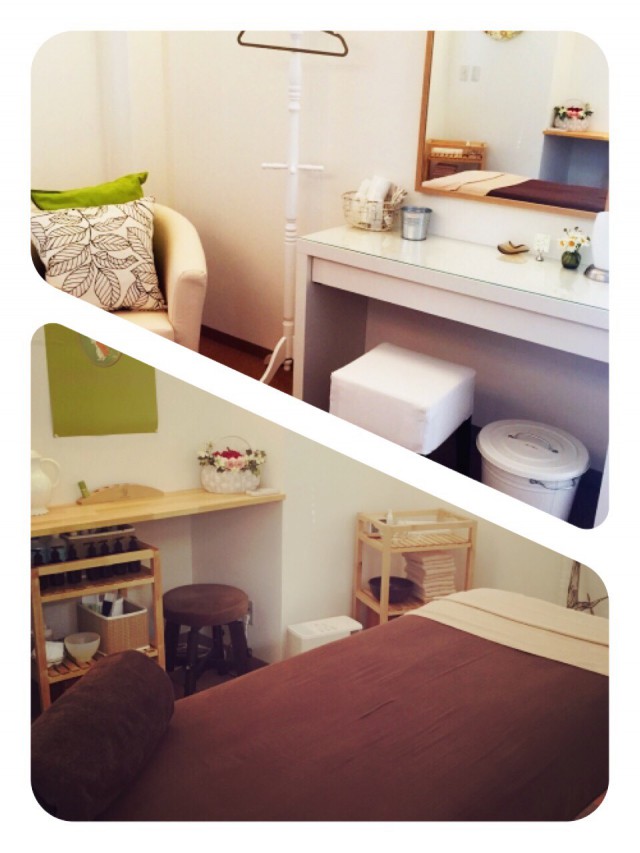 ↑Organic aroma treatment room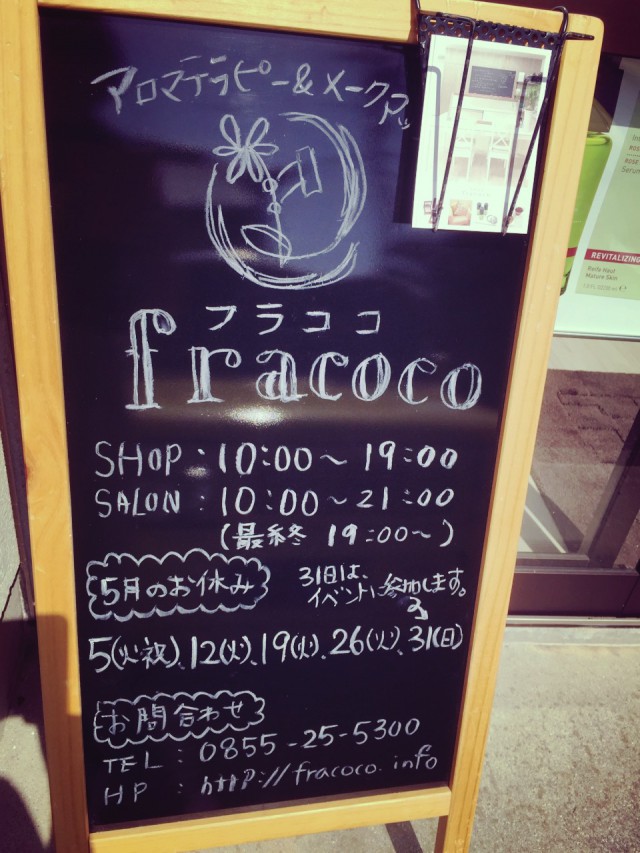 Directions: It's just off Route 186 in Hamada. The Google Map below is a little off but if you can get to this area, you should be able to find it.
Address: Hamada-shi Aioi-cho 4220
Phone: 0855-25-5300 in Japanese only
Opening times: Shop/ 10:00-19:00
Salon/ 10:00-21:00 (Last : 19:00-)
Written by Minami